Are you looking for the best Puncture Repairs for your vehicle?
Driving a car with punctured tyres is a major safety threat as they cannot maintain the required road contact and traction. Also, it may lead to a blowout because of increased friction. Therefore, you must stop the car at a safe place immediately and get your car's tyre puncture repaired as soon as you notice it. V-Tech Auto employs the best experts in the industry to provide your vehicle with quick and efficient puncture repair Reading services.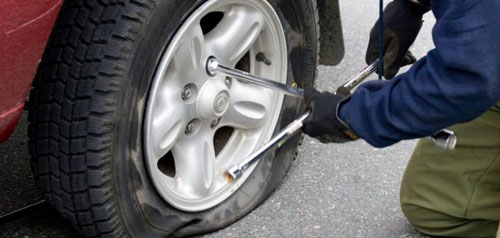 What is a puncture repair?
Puncture repair is the process of repairing any minor damages on your tyre's tube and tread area in case of a leak. Our experts have plenty of experience in inspecting and repairing holes and other significant damages on your car's tyres that may have occurred due to driving over sharp objects like a nail or a screw.
In case your car's tyres are irreparable due to major damages that are not legal to repair, you can certainly choose from our wide collection of branded, premium, mid-range, or budget tyres for a replacement. We employ professional tyre fitters that can provide your vehicle with a quick tyre replacement at affordable prices.
Benefits of puncture repair
Increased driving safety and comfort
Experts at our garage are trained to repair/replace your car's tyres, so they can maintain optimum road contact and excellent coordination with the wheels. This helps you to achieve exceptional safety and superior acceleration.
Enhanced tyre life
V-Tech Auto is known to provide adequate tyre repair/replacement, so you do not have to incur any issues while driving. This enhances the performance of the vehicle and increases tyre life as well.
Prevents additional costs
We utilise advanced tools and material to repair tyre punctures that help you avoid high replacement costs.
Risks of driving on punctured tyres
Safety Threat
Driving on punctured or damaged car tyres result in constant air loss. This may lead to increased friction between tyres and cause steering issues.
Expensive Replacements
Punctured or damaged tyres pose a serious threat to the tread and groove area. As a result, tyres may encounter premature wearing that may cause high replacement costs. Further, driving with punctured tyres result in expensive wheel repairs and wheel replacements as well
Symptoms of punctured tyres
Vehicle pulls itself towards one side of the road
Visual inspection to notice any leak present or nail stuck on the tread
Increased rolling resistance and reduced acceleration
Loss of vehicle control and increased braking distance
Reasons for tyre puncture
Driving over sharp objects like nails, screws, and debris
Faulty valve stem or inadequately inflated tyres
Driving with worn-out or damaged tyres
Visit Our Garage
Visit V-Tech Auto to avail excellent puncture repair Reading at the best prices. You can also book a puncture repair for your vehicle through our website. Our garage operates 24x7, from Monday to Sunday. In case of emergency, make sure to call us at 0118-950-2888.
For any information on our products or services, you may write to us at info@vtechauto.co.uk.