Search Tyres by Vehicle Registration
Are you looking for All Season Tyres for your vehicle?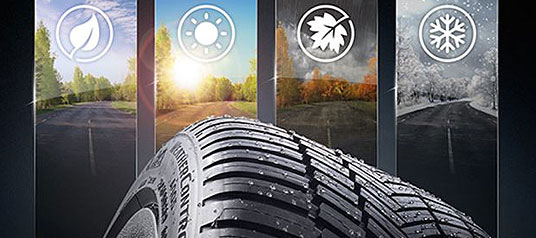 All-season tyres are the ideal product if you don't want the hassle of changing tyres every 6 months. These offer a balance between winter and summer tyres and provide adequate performance across almost all weather conditions.
At Tyre City Autocentre , we have an extensive collection of all season tyres in Dudley . We stock products for all types of vehicles; from family wagons to off-roaders, you will find the perfect all-season tyres in our garage at the best prices.
All-season tyres as a smart choice
Using such car tyres in Dudley can help you save a significant amount of funds as you won't have to swap out the set with the changing season. All-season tyres are ideal for the mild British weather; combining properties of summer and winter tyre make them extremely efficient as well as safe in variable road conditions.
All season tyres in Birmingham that you will find in our garage are from some of the best manufacturers in the automobile industry. Every single product gets precariously tested before we stock them, ensuring quality across our collection.
These tyres also offer several upsides over summer or winter tyres –
The unique rubber compound used to make all-season tyres can withstand a wide temperature range. These tyres do not stiffen up in colder climates, and can also withstand a warmer climate without deteriorating.
All season tyres in Dudley incorporate the designs of both summer and winter tyres, making them excellent for dry as well as wet tarmacs. Most of the units in our stock sport aggressive, albeit shallower tread, with sipes running across the carcass for better water dispersion. These features make them perfect for summer and winter weather conditions without compromising on your vehicle's performance.
Every all-season tyre that you will find with Tyre City Autocentre in Dudley is rated for maximum fuel efficiency. It will help you save a significant amount of money on fuel when you use these in your vehicle.
All-season tyres are not as effective as dedicated summer or winter tyres. Season-specific tyres are tailor-made to tackle adverse weather conditions; all-weather car tyres will not be as practical or comfortable to drive in harsh cold, or blazing summer.
Although, if you use all season tyres in Birmingham most of the times, they will perform admirably throughout all weather conditions. That makes them ideal for city commuters and short travellers.
Looking for all-season tyres?
Tyre City Autocentre is the largest retailer of all season tyres in Dudley , with an extensive stock of such tyres across all sizes and for different classes of vehicles. Feel free to call us for a quotation on these units; you can also purchase these tyres online from our web-based retail.