MOT, Repair, Servicing Free and Instant quotes.
Online Repair Quote By Make

Tyres Warley
Are you a resident of Warley and are looking for a garage for MOT and car Tyres Warley?
Being a car enthusiast from this parish, are you troubled with any vehicular issues?
If yes, we recommend dropping the idea of wasting your valuable time searching for 'garages near me' and reaching out to Tyre City Autocentre at 46 Wellington Rd, Dudley DY11RE. The address is almost 7 miles from Warley and would take you roughly 30 minutes to reach us via the via A4123 route. We are a well-established automotive service station and have been providing quality products and goos to people in this area for quite a while now.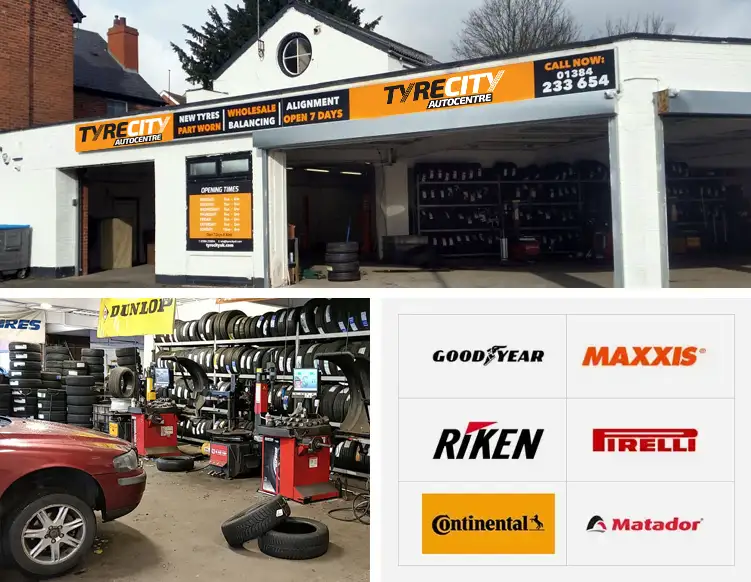 Our products
At Tyre City Autocentre we stock summer and winter tyres Warley, spread across both premium and cheap tyres Warley categories. The tyres belong to some of the most reputed tyre brands. To name a few, it includes:
Pirelli
Michelin
Goodyear
Dunlop
Bridgestone
Continental, etc.
Need help in selecting the perfect set of tyres for your vehicle?
Come down to us! Our in-house experts will be happy to help you out.
Our services
Check out an overview of our services given below:
MOT
We offer affordable services for MOT Warley, which you should opt for your vehicle by the following timeline:
By the third anniversary of the vehicle's registration
By the anniversary of the vehicle's last MOT, if it is more than three years old.
While in an MOT, the conditions of the clutch, engine and gearbox are not covered, several other areas are checked, including:
Doors
Mirrors
Fuel system
Exhaust system
Exhaust emissions
Windscreen
Lights
Battery and electrical wiring
TPMS
Brakes
Towbar, etc.
If your vehicle's MOT is due, book an appointment through our website today!
Wheel Refurbishment
Wheel refurbishment Warley is a good option for anyone who wants to restore the appearance of their wheels or protect them from further damage. It can also add value to a vehicle, particularly if the wheels are in poor condition or have become dated.
Besides these, you can turn to us for any of the following car service Warley:
Air Conditioning Check
Batteries Check
Exhaust Servicing
Clutch
Servicing
Brakes
Engine iagnostics
Alloy Wheels
Locking Wheel Nut Removal
Contact us
We are open in the below-mentioned hours:
Mon - Fri: 09:00 - 18:00
Sat: 09:00 - 17:00
Sun: Closed
Visit us today or give us a call at 01384-233-654 for any queries or booking.
Opening Times
Monday

09:00 - 18:00

Tuesday

09:00 - 18:00

Wednesday

09:00 - 18:00

Thursday

09:00 - 18:00

Friday

09:00 - 18:00

Saturday

09:00 - 17:00

Sunday

closed - closed