MOT, Repair, Servicing Free and Instant quotes.
Online Repair Quote By Make

Tyres Willenhall
Willenhall is situated in the Metropolitan Ditrsict of Walsall and is a historic market town. The population of this town was 28,480 asper the 2011 Census. We can only imagine that the population has increased significantly by now.
Are you a resident of Willenhall and are looking for a garage for MOT and car Tyres Willenhall?
If you are a resident of this area, we recommend visiting Tyre City Autocentre. We are just 6.7 miles away from your location. You can easily reach us in just about 25 minutes if you take the B4163 route.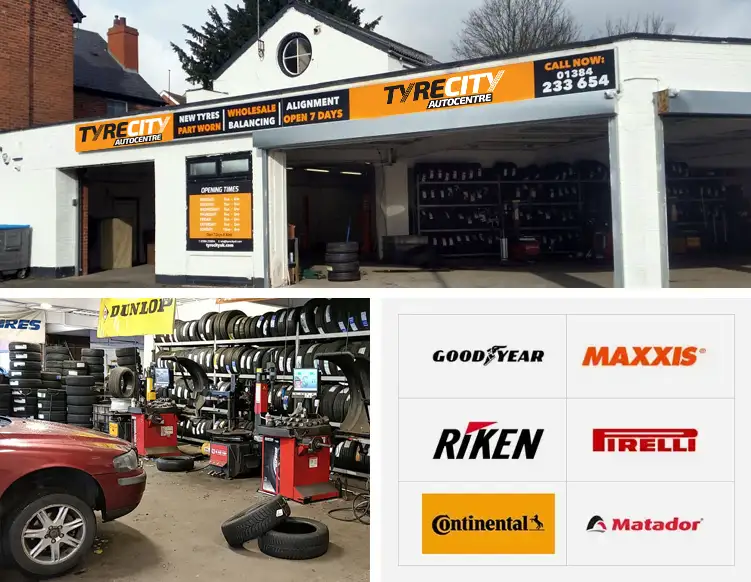 Why Choose Us?
We are one of the reputable garages in the Dudley and wholesale retailer of tyres in Dudley. Our customers, get back to our service because of the following reasons:
Fair pricing policy
Online booking facility of services
Wholesale retailing of tyres
Same day tyre delivery locally and 48 hours for other locations
Our Services
End your search for the "car services near me," and opt for our following services at affordable rates:
MOT
As per the UK government's mandate, MOT is a legal requirement for all vehicles over 3 years of age. If your car is due for its MOT Willenhall, please feel free to book a test online with us.
Our certified technicians will thoroughly inspect each car component to ensure they meet the legal standards set by the DVSA. If your vehicle passes the MOT, we will issue a VT20 certificate. If it fails, you can consider opting for our affordable MOT repairs. We will offer a partial retest free of cost if you opt to resolve the issues at our workshop within the next 10 working days.
Wheel Refurbishment
Have you been looking for an affordable retailer to purchase alloy wheels?
This can be a costly affair. You can instead opt for our alloy wheel refurbishment Willenhall. This is a cheaper alternative to bring back your car's aesthetic appeal without burning a hole in your pocket.
Car Service
We offer value-for-money car service Willenhall. Our technician will check the electrics, spark plugs, oil levels etc., and provide the necessary repair and replacement services with your prior approval to fix worn-out parts. With our servicing, rest assured of an optimal driving experience over an extended duration.
Tyres Willenhall
Whether you are looking for premium or cheap tyres Willenhall, we have covered it all to suit your pocket. You can choose from the following brands that fit your vehicle needs:
Michelin
Bridgestone etc.
Our other services include:
Air Conditioning Check
MOT
Batteries Check
Exhaust Check
Clutch Check
Servicing
Brakes Repair & Replacement
Engine Diagnostics
Alloy Wheels
Locking Wheel Nut Removal
We are located at 46 Wellington Rd, Dudley DY11RE.
You can also call us at 01384233654 for bookings.
Opening Times
Monday

09:00 - 18:00

Tuesday

09:00 - 18:00

Wednesday

09:00 - 18:00

Thursday

09:00 - 18:00

Friday

09:00 - 18:00

Saturday

09:00 - 17:00

Sunday

closed - closed